I'm a firm believer in training bunnies, just like you would a dog. I think it stems from the hours that I have spent getting my Show bunnies to sit just how I like them to on the show table. Lap training is the same but a lot less formal and certainly much more fun than training a rabbit for a show. It is best to start the bunny and new owner straight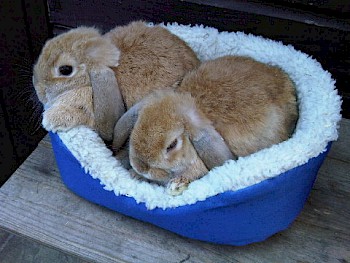 away with the idea of a snuggle bed and lap bed training, Snuggle beds come in different shapes and sizes as well as different colours. So there is one for everyone and every bunny whether a Dwarf or a Giant, and best still they are all machine washable, great for those mishaps.
These will help your child feel more confident as there is a pad between them and the bunny, no scratchy claws on a lap or accidents with a wet patch.
We tend to use the lap beds alongside our handling trays, if you have attended one of our bunny workshops –you would of seen this is action and taken part, must people cannot believe how well behaved the rabbits are, the trays give the bunnies space- but it is controlled space, they soon learn that this is not for long and can result in nice yummy treats and a good head rub.
First we will explain just lap bed training and then for those of you that have one of our handling trays, we will run through how this is used, they are great at mastering the art of picking up a rabbit from, thus making it far easier for you to get the bunnies out of their hutch or cage.
We are believers that pet rabbits should be handled, the earlier you start and the more consistent you can be the better relaxed the rabbits are. We never wrap our bunnies in a towel and we find this spooks them even more, if rabbits are handled daily- correctly they are more than happy to be.
We advise that you do a "trade off" with the bunnies- their hutch /cage is their space- you only have cage interaction to the front of this- so when the bunnies hop to you – they can be petted and hand feed, but you other than when you are getting them out – do not keep going into their space and disturbing them- in return when they are out for a handling session- they will behave as they know this is not for long and they will be returned to the quietness of their hutch.   
1.    Get your child to sit down. Place the snuggle bed on their lap and place bunny in it, talking softly to your bunny, to get him to relax.
2.    With the bunny in the bed show your child how to stroke or brush it, treats can be fed to the bunny as a reward for being good, but not too many. Start with 5 minute sessions building up if your bunny is happy.
3.    If they start to dig or bite the bed this is an indication that they have had enough, turn the bunny around in the bed stroking it for a further few minutes, tell the bunny how good they are then put the rabbit back in its cage or return to the handling tray or  to have a hop around in the playpen- if you can easily re- pick up your rabbit..
4.    Do not put the bunny down as soon as they misbehave or they will soon learn what to do to get their own way. Put the rabbit down or away with you in control of the situation -little and often, is the key.