All of our rabbits are kept and cared for to the highest standard. we breed purely for ourselves  and show purposes, our rabbits are not breed for profit making. We pride myself on looking after our Rabbits, breeding them for our own personal pleasure, and only letting our surplus bunnies that are 10 weeks plus go to suitable homes. We can and do refuse a home, if we believe that the person or family are not suitable. Any funds they generate are used for the up-keep and welfare of our rabbits. Anyone breeding and keeping rabbits correctly will make a loss on the sale of these rabbits
In July 2008 Dee launched an internet shop to help fund our ever growing bunny family. Which includes our old retired ones-some of these are 10 years old.
If you are homing a bunny from us, please also support us by buying your cage or your accessories at Dee's shop. As this helps us support our rabbits and not the sale of any babies- meaning we only have a few litters a year.  By supporting us we can support you. We can be at home to look after our rabbits and on hand to answer any queries you may have. If you decide to go elsewhere or you already have a cage please check with us beforehand that it is suitable for the rabbit that you are wishing to home. We will ask you to email us a photo of it. If you have the wrong size cage we will not home  one of our bunnies to you.
We regularly handle our young rabbits, this makes them confident about being handled, all our rabbits leave us hand tame. We will take the time to make sure you understand what is involved with keeping and caring for rabbits. We will show you how to approach and handle your chosen rabbit. We will do a full health check with you on the rabbit/s you are homing, they will come with a care leaflet, change over food that rabbit has been eating, plus on-going advice for the care and well -being of your rabbit. We offer bunny workshops on collection to homes having our full package- this covers care, training and handling, if you finish what we have started with the bunnies you will end up with a lovely friendly pet rabbit.
If you would like to reserve a rabbit or rabbits, we will require a non-refundable deposits to secure the one of your choice, your deposit will only be returned due to unforeseen circumstances on our  behalf & not because you have changed your mind. Please take the time to read our full terms on homing a bunny from us.
The rabbits cost us in excess of £150 a week to keep, they are housed in sheds that are air conditioned in the summer months and heated in the winter. Every shed is fully netted against flying insects and have lighting for 16 hours a day.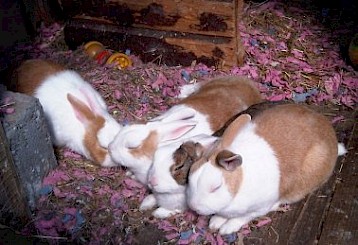 Within the sheds every bunny has it's own spacious hutch with a litter tray, sleeping box for the girls and a shelf for the boys plus lots of toys normally stolen from the internet shop. The bunnies will claim that they are just testing them!!!!!!
We have several neutered bonded pairs who will share a home. These are normally retired show or breeding bunnies that we can't part with.
Every bunny receives daily attention, some crave a lot, were others are happy with a head rub at breakfast time. Every bunny is fed daily a mixture of Millen Advanced rabbit food - nugget & nibble, with either Timothy hay, Italian Rye Grass or best English meadow hay. With un-limited access to fresh water supplied in bottles. The bunnies are cleaned out weekly, with a top layer being added mid week, to keep the cages fresh and clean. We use either the No frills straw litter with my wonderful Barley straw for the long haired bunnies or lavender shavings with lemon straw for the short haired ones.
A normal clean out, we will use: 20kg of lemon straw or a whole bale of Golden Barley straw, 60kg of no frills litter pellet, 1 x 20kg bales of lavender shavings. Our weekly feeding we get through 20kg of Feed, 20kg of  Timothy hay, 20kg of Italian Rye grass plus a bale of  Sussex hay. Plus any new bottles, toys etc. And any vet treatment.
All in all a very expensive hobby.