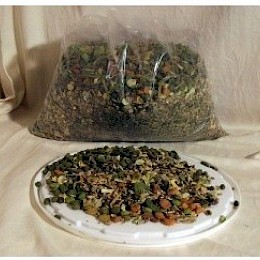 Millen Advanced
A complementary food for rabbits, the Advanced has added deodorizing yucca extract in the form of a nugget to reduce ammonia levels, plus added Verm-X - 100% herbal blend to promote intestinal health. This to be fed in conjunction with forage such as clean hay and freeze dried grass, fresh water must be available at all times. With limited vegetables if your rabbit is use to these. We now longer stock just a Muesli style food, although if feed correctly this is not a problem, we do find rabbits kept as pets do get over feed -so they will just pick out their favourite bits, leaving the stuff that is really good for them. We feed a nugget and nibble as we believe this allows the rabbit to forage.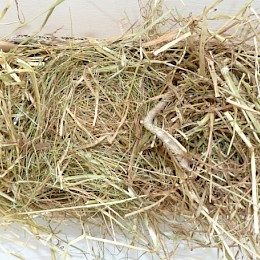 Meadow hay
Last years cut, lovely and green, smells great my bunnies love it. In Fresh English Meadow Hay; I have two types from two different counties of the UK: Sussex, and so soft and sweet. We have two types of  Italian rye grass, Big and Stalky and Fine and Gold, an Ultra Timothy hay, Fibre Blend a mix of hays and North American Timothy hay. There will be one that your bunny just can't get enough of.  We bag this hay to order, to ensure that it reaches you in tip top condition for you bunny or small pet's enjoyment. These are supplied in 1kg, 2kg, 3kg bags or a money saving 9kg box. Buy two of these and delivery is free to England, and lower Scotland.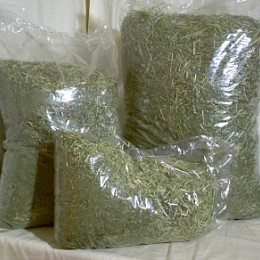 Millen munchy grass
Millen munchy grass is a freeze dried grass, made from pure grass with only the water taken out. Protein 15%, Fibre 32%, Oil 2%, Prosphours 4g/kg. Very good for making a rabbit use it's back teeth correctly. This is a food in it's own right, so can replace a feed, I would advise not feeding this more than 3 times a week. This is a natural product which may vary in appearance throughout the season, this does not affect the nutritional value and the Bunnies love it. more info here
If your not sure what to buy or what your bunnies will like we have a super pack for you to try, if your bunnies love these you can then get the 2.5kg bags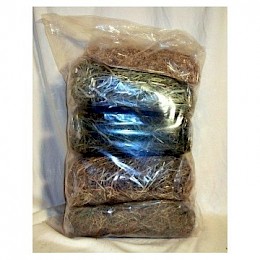 The Fibre Four pack in three sizes
Designed for bunnies and their back teeth...
    Pack contains a mix of the above. Great for keeping your bunny munching.
    Millen Munchie Grass.
    Ultra Timothy Hay.
    Meadow Hay-so soft or Sussex
    Italian Rye grass in big and stalky or fine and gold.